Dimension Drive, as you might know already, was selected to be showcased at Tokyo Game Show as part of the Holland Pavilion. So David and myself draw in order to decide who was the lucky one going all the way to Tokyo …. and I was the winner !!!!
So I packed everything for the show (computer, flyers, stickers, buttons, …) and flew all over the world to attend Tokyo Game Show 2015. It was my first time in Asia and the Tokyo Game Show and it was… well amazing !!!
We were quite lucky and our booth was just across the hall from the Street fighter V (I was a big fan when I was younger). Let me show you how our little spot looked the first day before we  the show started, and our location: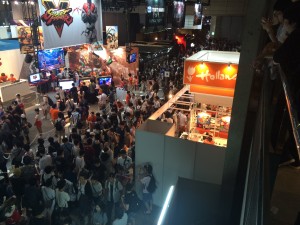 Among all that craziness we even have time to meet one of our backers. Amazing to talk and meet you in person, when we have the opportunity :
Saturday and Sunday were really crazy days, with around 300.000 visitors. The cue to enter the show before they opened doors on Saturday was all around the main building. Let me show you how busy was our hall during those 2 days:
There were a lot of queues to play all games during the show… even Dimension Drive 🙂 like in the good old arcade days were all kids waited in line while another one was playing:
Let me show you also some other cool stands there (some of them were really amazing):
Finally I got the opportunity to do some sightseeing the last day before coming back. As a good geek, I went to Akiba where I find so many cool things, including a second hand Dreamcast and a lot of games for my PSVita (among so many other things):
It was a great experience and we definitely hope to come back next year !!!